Introducing The Choppa Collection: A unique range of twelve mouth-watering flavour blends across six different ranges, available exclusively to wholesalers.
Flavours redefined
Our mixologists have put together the best blends of popular consumer choices to create an explosion of flavour. The best part? Each range has two flavours to pick from, meaning The Choppa Collection can always be relied upon as a solid suggestion to every customer.
Stockist benefits
Being available as wholesale only, The Choppa Collection is a sort after name amongst the community and an asset to your store due to the high customer retention and loyalty experienced by this range and our exclusive distributor network already.
Becoming a stockist is not where our relationship ends. This is not your standard wholesale service. We look to help each and every partner to grow their own traffic through promos, Lives, links to BIG hardware manufacturers and going beyond expectations with the very best range on the market!
The flavours
Let's get into the juiciest part of this post, the flavours!

SLUSH
Remember those days, cinema trips and walks along the beach when slush was the god of drinks? Well we have brought this into the world of adulting as two mouth-watering flavours of Blue Slush and Red Slush.
Red Slush – Sweet strawberries with slices of pineapple, fresh slushy lemonade and a touch of syrup to create the best Red Slush you will ever taste!
Blue Slush – Fresh blueberries and handpicked sweet raspberries with a secret syrup added to make this the greatest Blue Slush you will ever taste!

SODA
Made up of two incredible (and popular) flavour blends, this soda range is perfect for that fresh fruity feeling! Sit back and taste the sweet juicy blends.
Fanta-Stic Fruit Twist – The clue is in the name! This one will remind you of the popular drink we all know and love! A juicy blast of passionfruit, orange and peach, sure to quench your taste buds!
P.O.G Punch – Freshy cut pineapples, sharp orange and guava. A taste of Hawaii and a classic take on the classic Punch and Rock Superstar drink.

DESSERTS
One of the most sort after categories in the industry – because who doesn't secretly have a sweet tooth? Sneak in an extra pudding or two without anyone knowing with this range!
Sweet Caramel Vanilla Custard – Smoothly blended, thick caramel with lashings of vanilla custard, this is sure to get you hooked. One for the dessert lovers!
Lemon Pecan Pie – Smooth lemon tart filling with glistening toppings of pecan on a sweet pastry spread, making a pie of pure perfection!


FRUITS
Perfect for satisfying that need for something refreshing and an all day vape, our Fruits range is an explosion of delicious flavours to tantalise your taste buds!
Black Widow – Tantalising blackcurrants, mixed with lychee and ripe guava, a sweet combination that will get you licking your lips!
Forest Fruits – A medley of juicy fruits with an infusion of sweet berries. Sweet fruity goodness, no foraging needed here.

MINT
Fresh, crisp and flavourful, who doesn't like a hint of mint? Flavour on the inhale and a cool hit on the exhale, a range to delight and leave you fresh breathed.
White Crystal – Perfectly mixed fruits with menthol, an ice cool crystal kick and smooth eucalyptus to keep this a refreshing all day vape. Going on breaking bad!
Midnight – A combination of hand-picked juicy blackcurrants, dark berries and a touch of cool anise to create a flavour to be reloaded again and again!

ICE
Looking for a frosty vape? We've got you covered! The Choppa Ice Collection features fruity fusions with an icy kick to every hit!
Bully Iced – A taste of New Orleans. A fresh bowl of mardi grass with logan berry to create this very distinctive, fruity and shattering flavour!
Tango'd Apple Ice – Apple lovers! Rosy red and tangy green apples with a slight sweetener, finished with that icy blast we all love to drink!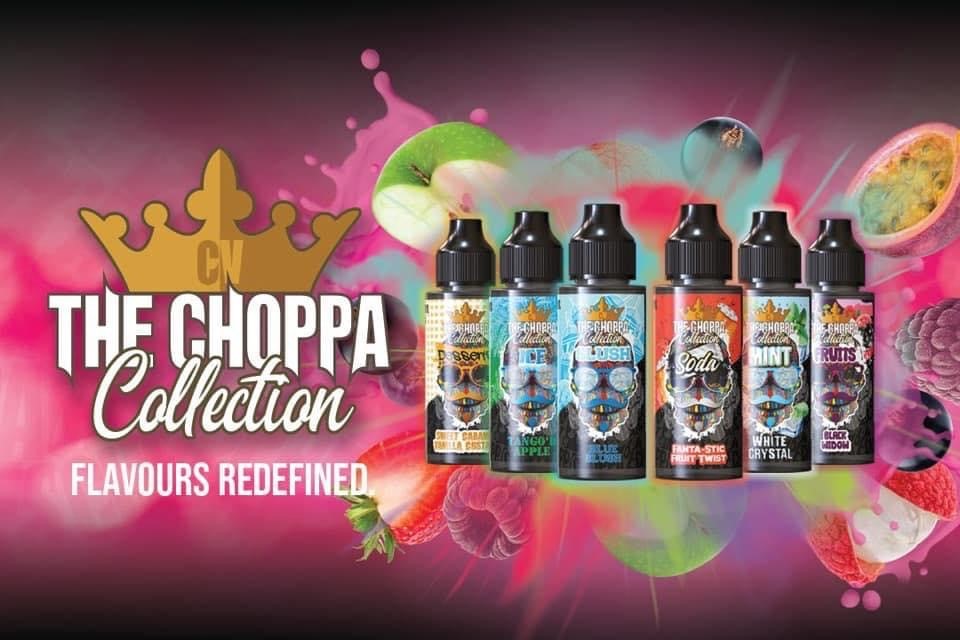 All our flavours are available in both 50ml and 100ml shortfills!
Thousands of recipes have been made over the years and The Choppa Collection is a combination of the best as voted by consumers themselves.
If you want to become an exclusive stockist partner, please drop us an email at wholesale@thechoppacollection.com or call 01254 375277 to find out more!