"Something for every flavour palate in this new range of vape juice with more to come!"
We had an exciting notification pop up at head office last week – the first review of The Choppa Collection! This has come in from Michelle over at EcigClick. We really enjoyed reading her honest comments on our collection and decided to share it with all our current/future stockists!
We sent Michelle all 12 x 50ml shortfills from the collection:
Midnight
White Crystal
Sweet Caramel Vanilla Custard
Blue Slush
O.G. Punch
Tango'd Apple
Forest Fruits
Bully Iced
Red Slush
Lemon Pecan Pie
Black Widow
Fanta-Stic Fruit Twist
The review starts by looking back at our award-winning history with EcigClick ranking in "Best Overall Store UK", "Best Bricks and Mortar UK", "Best Value E-liquid" and "Best UK e-liquid brand".
This is followed up by our ingenious choice of bottle tip! The Choppa Collection feature flip top tips as showcased in this photo by EcigClick.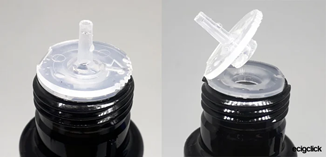 These tips make for an easier Nic Shot adding experience! No more spilling half your liquid over you desk, hands and just about every other part of your life!
Our collection consists of 50ml e-liquid in a 60ml bottle offering a ratio of 64%VG / 36%PG which as Michelle stated, when mixed with a VG Nic Shot brings the ratio to 70%VG / 30%PG.
Michelle used a single coil RDA attached to her Smok Mag Grip, dry burning and installing new Muji Cotton Wicking between each flavour.
We won't give away her full review but instead quote a line from each flavour!
"I am really enjoying this flavour – there is a coldness and this is Menthol with Blackcurrant all day long!"
"This I imagine will also be a great flavour to keep on hand if ever you get "Vapers Tongue" and need to clear your palette. This will do the trick!"
"This flavour came 10th in the 2020 EcigClick Awards for the "Best Dessert E-liquid"
"The flavour is as delicious as the smell – you can taste a sugary syrup and the blue Raspberries clearly."
"A sniff of this gives off the aroma of fresh Pineapple with a backing note of citrus"
"This taste likes real apple – not synthetic or artificially sweetened."
"Definitely an all day vape and for those who are not keen on sweet or synthetic e-liquid flavours this is a well rounded harmonious vape!"
"As I have zero reference points to compare to regarding the flavour profile all I can say is it is delicious."
"The flavour is more like pure Pineapple rather than a sweet shop type – it almost feels just as juicy in the mouth too!"
"There is definitely a pastry taste going on, I am getting a slight lemon tang in the background"
"The smell is really fruity and rich Blackcurrant – I genuinely want to drink this – please don't try this at home"
"This is super fruity with the right amount of tang to not taste really synthetic and "sweet shop" like. But it is not that sour that it sucks your pants up your bum either."
And we have reached the end! So her final verdict…
Michelle loved how much time and thought we put into The Choppa Collection, from our bottle tips to our fresh juice flavours.
A particular strong point is how our Iced range is "not tainted by mint or eucalyptus", instead providing a cold sensation, still allowing the delicious flavours to come through!
If you want to know how Michelle rated each flavour and read her full review, click here.
We look forward to hearing more great reviews over the coming weeks!
If you are interested in stocking The Choppa Collection, drop us an email wholesale@thechoppacollection.com or call us 01254 375277.